The Bells Are Ringing for Our New Wedding Rose Cupcake Set
23.05.2019
Today at Take a Cake we let the sunshine in and we officially declare the wedding season open. What better time to introduce you to our Wedding Rose, the new wedding cupcake set by Take a Cake.
Just look at it! Its sparkling presence, sprinkled with pink-purple petals, is so elegant to match your style.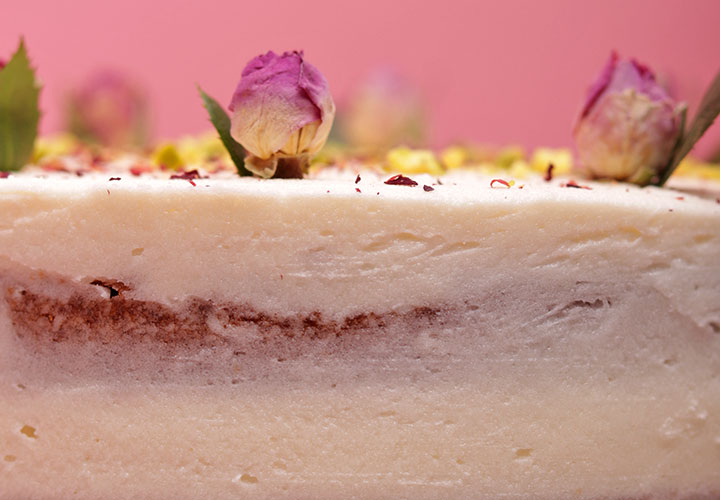 Besides being trendy, beautiful and tasty, our wedding cupcake sets have many other advantages:
Wedding Rose is a remarkable cupcake set with 24 pieces in the shape of wonderfully delicious and beautiful cupcakes for the most esteemed guests. And the newlyweds have the crown – the small and exquisite cake at the top, which you can cut, when the grand moment comes.
Our new rose not only looks and smells amazing – its taste is so tender, that it enchants you from the first bite. And it's full of treasures! The cupcakes and the crown cake are made with high-quality Belgian white chocolate Callebaut, pistachios and bio rose water, and all that is topped with a white fluffy cream cheese frosting, again with a splash of rose water.
Wedding Rose is definitely different from the standard wedding cake, which is why it radiates mystery and splendour. We will unravel the mystery in a while, but first we want you to know that we are well aware how many different emotions are running in your head, as you plan your perfect wedding day. It's no different if the guests are 300 or 20. That's why at Take a Cake we promise you only reasons for joy. Discover them with the new Wedding Rose!
Here comes the mystery moment.
What is different about the Wedding Rose cupcake set?
Most importantly, it is far from common and it offers you unparalleled finesse in serving. Ready pieces, with perfect shapes. The crown, or the little cake at the top, is meant for the cutting ritual on your special evening. Or special lunch?
Regardless of the scheduled time, we will decorate your Wedding Rose just before the event. Your wedding cupcake set is always made on the same day from real products, baked right away. In the name of pure joy!
And finally, have in mind that if the guests on your wedding day are more than 24, you can order a larger Wedding Rose, enormous even. For 50, for 100 or 300 people, there are no restrictions. Just let us know, and we will take care of it.