About Muffins – Take a Cake's Delicious Quick Breads
03.01.2020
For the general public "muffin" and "cupcake" are two words for one and the same thing – a charming pastry, which you can eat on the go or offer as a convenient and elegant treat at an event.
But the truth is, that although similar in shape, they are quite different – both as ingredients and in terms of preparation.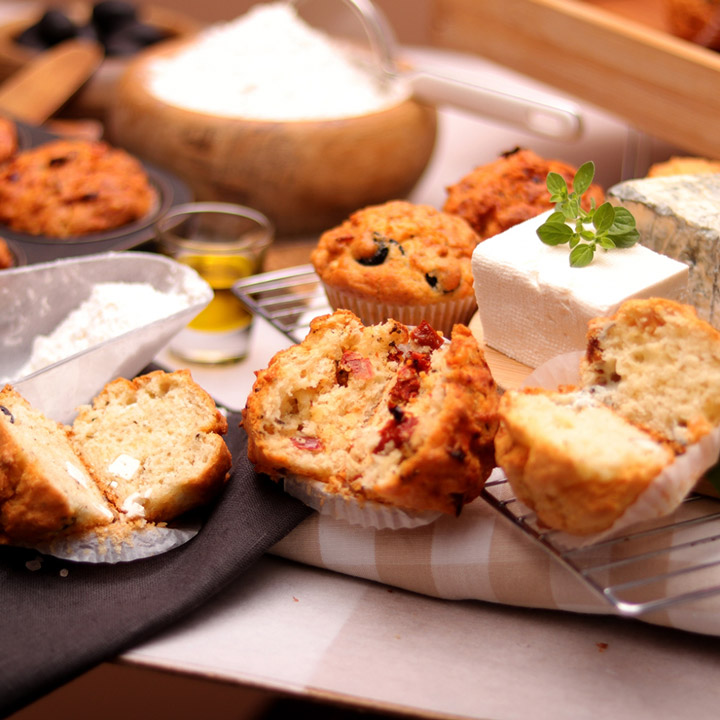 Discover Take a Cake's quick breads – healthy and tasty muffins, enriched with selected ingredients.
Unlike cupcakes, which are in fact little cakes and are prepared from a cake's dough, muffins fall into the category of the so-called quick breads. And although you can prepare a sweet muffin, today we will tell you more about our savoury quick breads.
With muffins the ingredients are mixed just like in bread making, but the dough isn't kneaded and no yeast is added. 
Another difference is that the selected dry ingredients should be mixed only until they are just moistened. The aim is not to achieve a smooth uniform batter, just the opposite. Cakes, on the other hand, are high in both fat and sugar and the uniform mixing of the ingredients is key for the fine structure of the end product. 
With muffins overmixing results in an unpleasant toughness after baking. A detailed recipe for one of our flavours is coming soon.
The number one rule at Take a Cake is baking right after mixing. That's how we are able to offer you a soft, light and super delicious savoury muffin, equally suitable for breakfast, lunch and dinner. 
And what about the flavours that we picked? Unexpected and balanced, classic and healthy. We present to you our muffins, with which you can diversify your daily menu or you can surprise guests and friends with a delicious and elegant treat in the form of a muffin collection by Take a Cake.  
Muffins with favourite Mediterranean ingredients – three tempting flavors by Take a Cake. 
Muffin with Dried Tomatoes, Parmesan, and Basil –you'll fall in love with this classic flavour.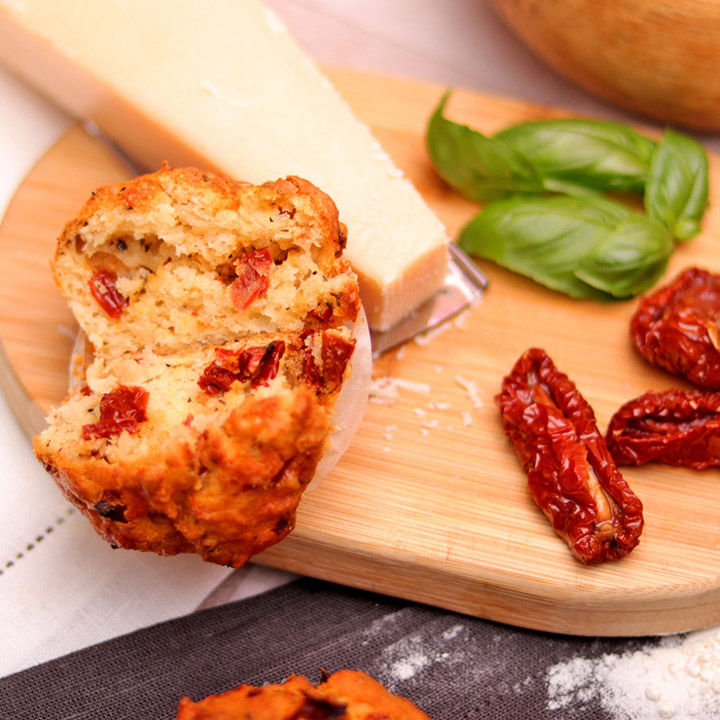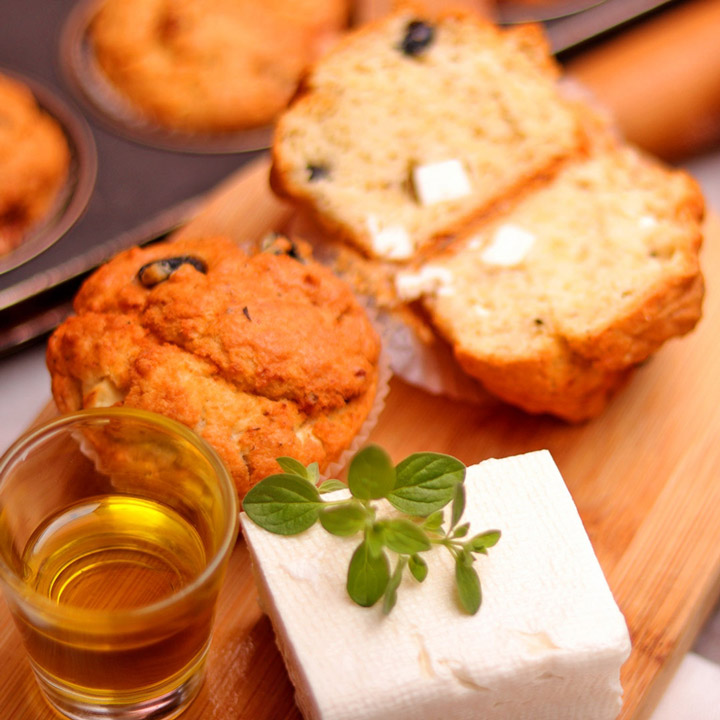 Muffin with Blue Cheese and Figs – an unexpected combination with a fine balanced taste.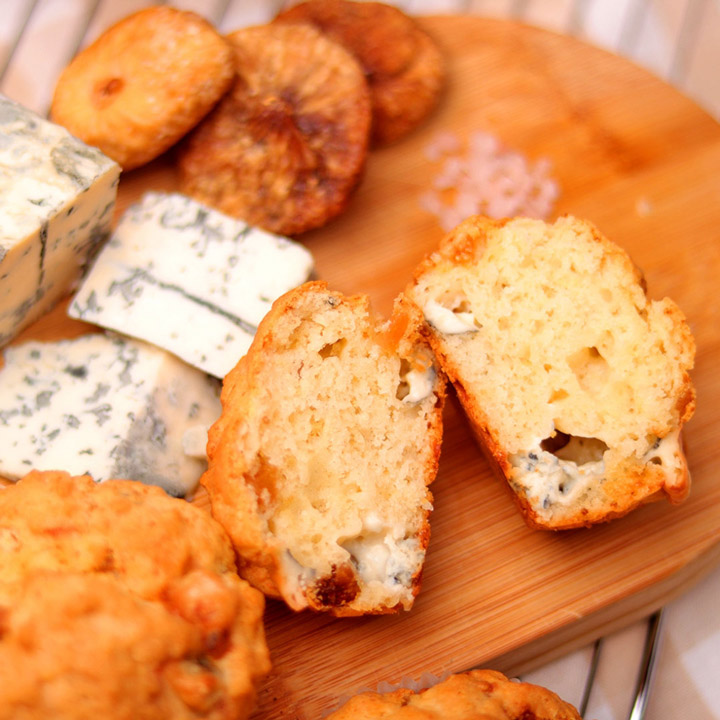 You can enjoy all the three flavours in a mini size – an excellent option for company and personal events of all occasions.  
Choose a favourite flavour and order a set of 24 Mini Muffins with Dried Tomatoes, Parmesan, and Basil, 24 Mini Muffins with Olives, Goat Cheese, and Oregano, or 24 Mini Muffins with Blue Cheese and Figs.
If you need a fresh catering idea for a party or a company event, take a look at our muffin collections, as well.
The Mediterranean Muffin Collection by Take a Cake combines the three tempting flavours in a set of 24 standard size muffins. Order now and get 6% discount!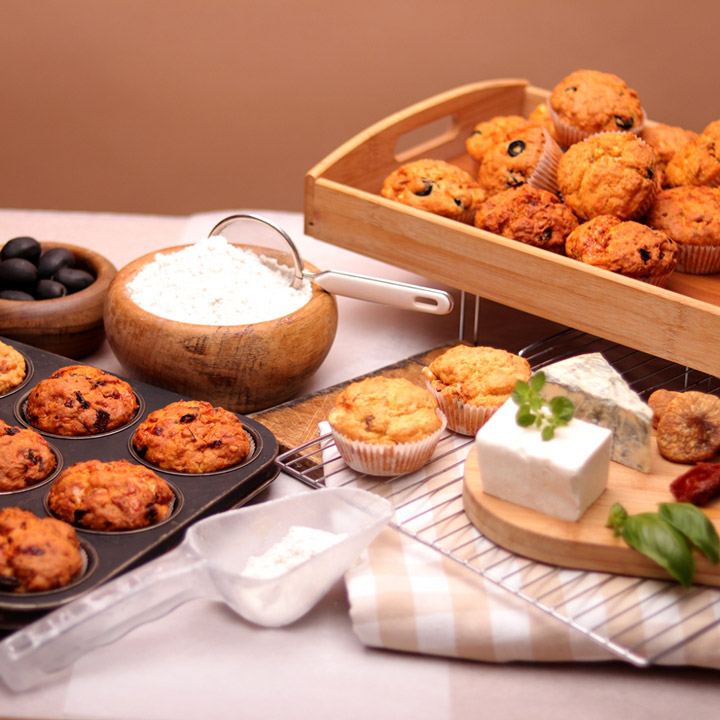 If you prefer the mini size, which is super convenient for events of all occasions, choose the Mediterranean Mini Muffin Collection with 48 mini muffins. Again, you can get it with our promo offer for 6% discount!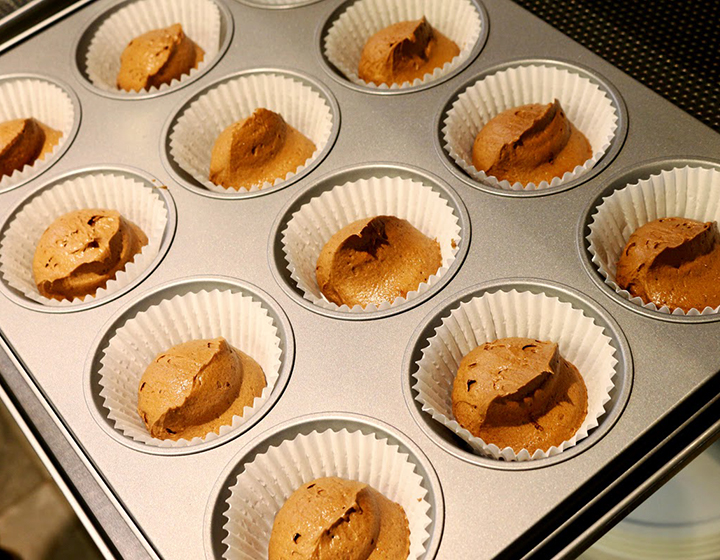 In case you are planning a company event, you should know that you can find our muffins also in combined sets with cupcakes – a sweet and savoury treat for the whole team! Take a look at our Little Business Breakfast and Team Building Set.
And finally, we'll wrap it all up with something sweet. And vegan!
Our Vegan Muffin Set has no ingredients of animal origin whatsoever and offers you an irresistible combination of high-quality rosehip marmalade, cinnamon and Belgian non-dairy chocolate.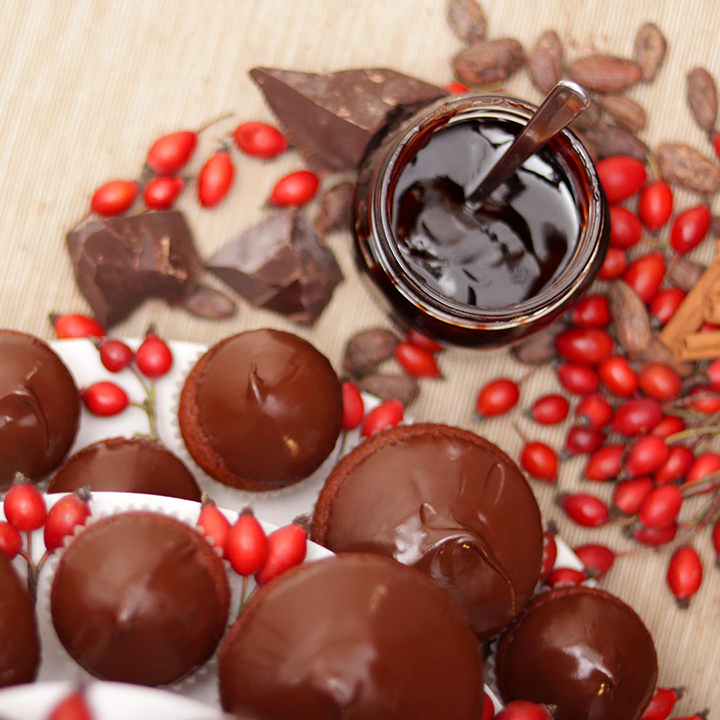 We have it in a mini size, as well, because it's so convenient and preferred for catering, when there's a special occasion and the guests are more – take a look at our set of 24 Mini Vegan Muffins with Bio Rosehip Marmalade, Cinnamon, and Chocolate.
If you still haven't tried Take a Cake's muffins, don't delay it! Come by our bakeries and discover the quick breads, which make the quick city bite delicious and diverse. We are expecting you!