i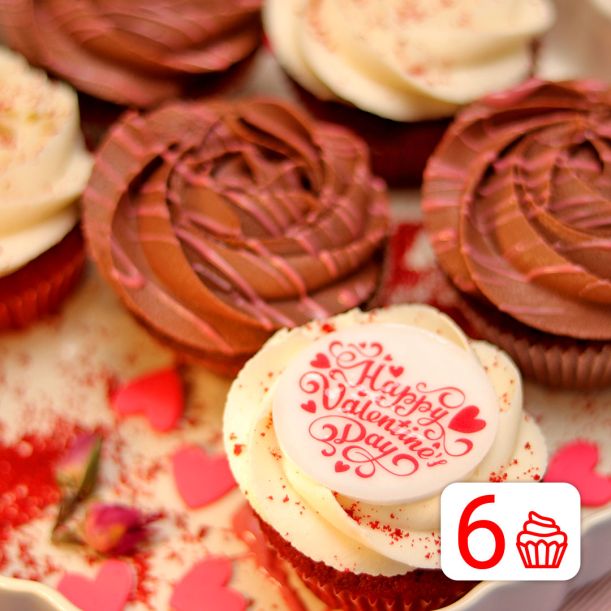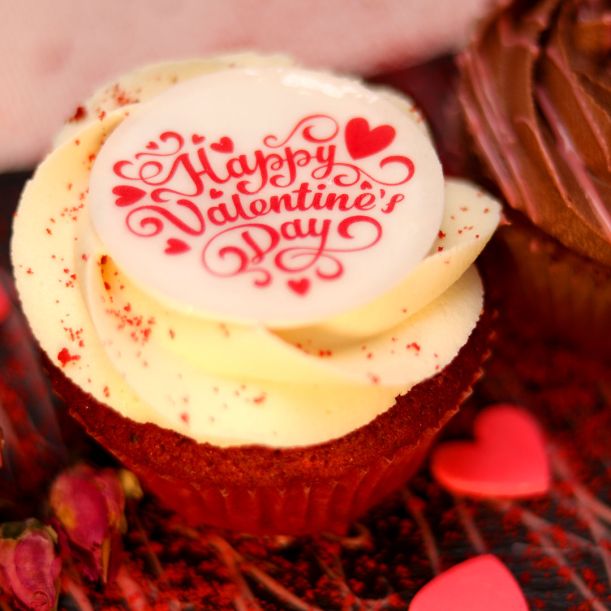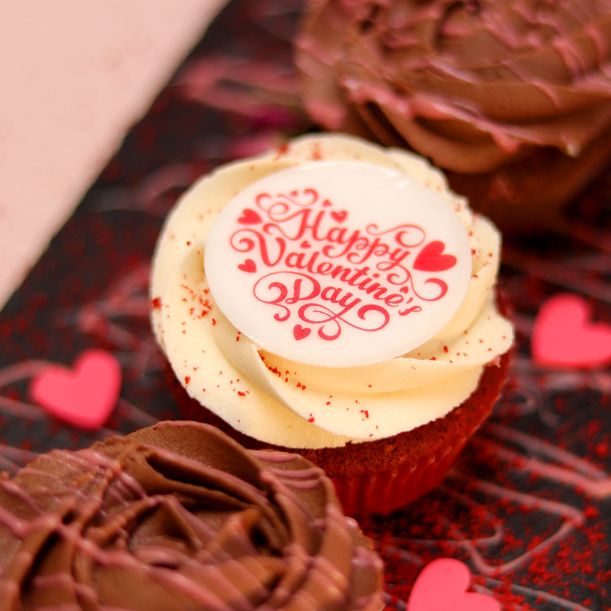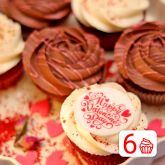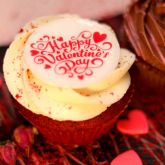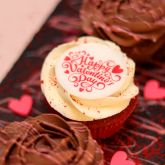 Delicious Valentine's Day Gift
For the day that celebrates love – make a sweet surprise with a limited selection of 6 delicious cupcakes... See more
For the day that celebrates love – make a sweet surprise with a limited selection of 6 delicious cupcakes for St. Valentine's!
Your romantic gesture will win your loved one's heart with two irresistible flavors that perfectly complement each other – the enticing Red Velvet and the tender strawberry-flavoured Cupcake with Baileys Strawberries & Cream. All you have to do is say 'I love you'!
Do it with a delicious gift from Take a Cake decorated with a sweet holiday greeting – order now with delivery to any address in Sofia or get it from our Take a Cake bakeries.
Weight: 550 g +/- 5% for 6 cupcakes.
The set includes: 3 Red Velvet Cupcakes, 3 Cupcakes with Baileys Strawberries & Cream, and a decoration of sugar paste with a St. Valentine's greeting. Ingredients of the decoration: Fondant (sugar paste), pastry jelly, wafer paper, food colourings.
Make it even more dazzling by adding a gift box and a card. Upon completion of the order, you'll be able to add your special personal message.
Red Velvet Cupcake: the pastry, movie and pop legend captivates you at once! With a velvety texture of freshly baked airy batter made with natural cocoa and buttermilk. We achieve the complete balanced flavour with our freshly mixed cream cheese frosting. A true velvety delight in bold red!
See the ingredients and nutrition facts on the product page.
Cupcake with Baileys Strawberries & Cream: an ultimate love confession with a refined taste that pleases all the senses! The juicy cocoa base, soaked with the fruity liqueur Baileys Strawberries & Cream, embraces a heart of fragrant strawberry jam. And the perfect finish? A fluffy chocolate mousse frosting and fine streaks of melted Ruby chocolate with a soft pink colour. Simply wonderful!
See the ingredients and nutrition facts on the product page.
How to order?
In the field Receive on* select a day and a time frame window for delivery or pick up from a Take a Cake bakery. Order before 16:00h for same day delivery/pick up
Choose packaging*
To this product you can also add a greeting card, a cupcake stand, and certificate of quality
Choose quantity and press Add to basket
More information on 'How to order'
Delivery/click and collect
Take a Cake makes deliveries within Sofia city limits. The delivery fee depends on the area the shipping address is located in. Check out the delivery fees
We carry out deliveries every day, including weekends, from 8:00 to 20:00, within two-hour time frame windows
During checkout you can choose to collect your order from a Take a Cake Bakery. Find the locations of our bakeries on the Bakery locator
See more on Delivery/click and collect
Have a question?