i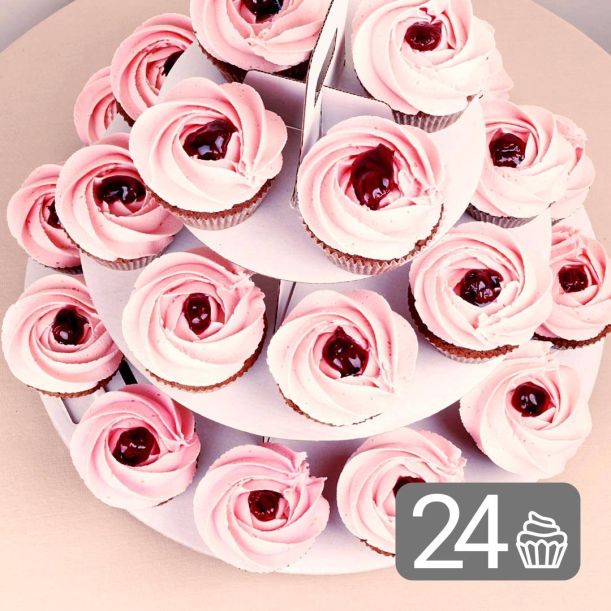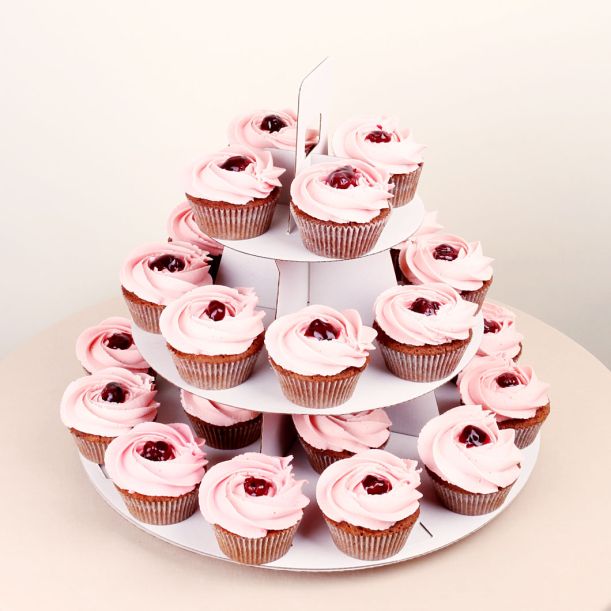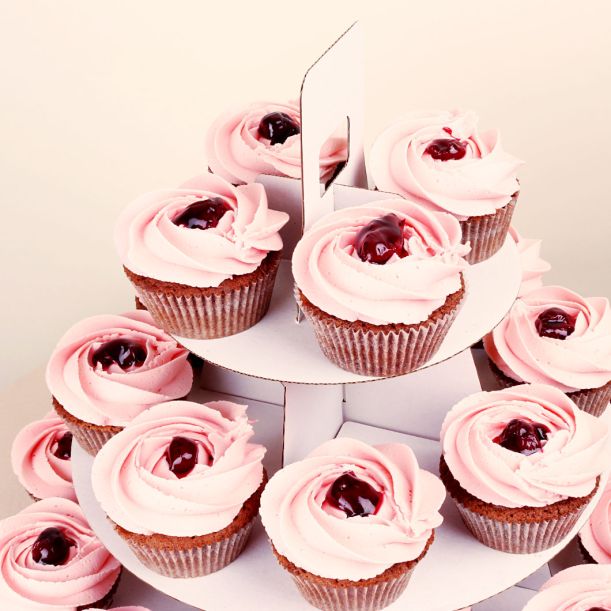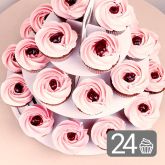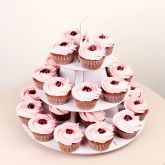 Cherry in Liquor Cupcake Set
This pink fairytale of 24 Cherry in Liquor Cupcakes is the perfect choice for a birthday, a name day,... See more
This pink fairytale of 24 Cherry in Liquor Cupcakes is the perfect choice for a birthday, a name day, or any other event that's worthy of a fabulous cake. Enjoy it with 9% off the regular price!
The Cherry in Liquor Cupcake Set attracts desire-filled glances, it's served quickly and elegantly, and most importantly – it brings a lot of good mood to your party.
Each cupcake is a juicy, slightly dizzying pastry masterpiece with a cocoa base soaked in a sugar syrup with rum and a filling of whole black cherries jam. The fresh cheese cream frosting is also decorated with a cherry for an ultimate delight!
The disposable cardboard stand is not included in the set. Add it from the Choose Options section to turn your favorite pastries into a spectacular three-tiered cake of 24 cupcakes.
Weight: 2.500 kg +/- 5% for 24 cupcakes.
The set includes: 24 Cherry in Liquor Cupcakes with pink frosting.
Ingredients: Cow's butter, black cherry jam, powdered sugar, cream cheese, white crystal sugar, eggs, white wheat flour, cocoa, rum, cow's milk, baking powder, salt.
Allergens are in bold.
Nutrition Facts. Amount per 100 grams: Energy 1599.2 kJ/382.2 kcal. Fats: 21.4 g, of which Saturates 13.1 g. Carbohydrates 43.5 g, of which Sugars 36.1 g. Protein: 3.5 g. Salt: 0.2 g.
See also: Megamix Promo Cupcake Collection – 24 cupcakes, six of our most-liked flavours, with 7% off the regular price and free delivery to any address in Sofia! You can also turn this collection into a three-tiered cake with the help of a disposable cardboard stand.
How to order?
In the field Receive on* select a day and a time frame window for delivery or pick up from a Take a Cake bakery. Order before 14:00h for next day delivery/pick up
Choose packaging*
To this product you can also add a greeting card, a cupcake stand, and certificate of quality
Choose quantity and press Add to basket
More information on 'How to order'
Delivery/click and collect
Take a Cake makes deliveries within Sofia city limits. The delivery fee depends on the area the shipping address is located in. Check out the delivery fees
We carry out deliveries every day, including weekends, from 8:00 to 20:00, within two-hour time frame windows
During checkout you can choose to collect your order from a Take a Cake Bakery. Find the locations of our bakeries on the Bakery locator
See more on Delivery/click and collect
Have a question?
Price
Regular Price: BGN 105.60
Special Price BGN 96.10