i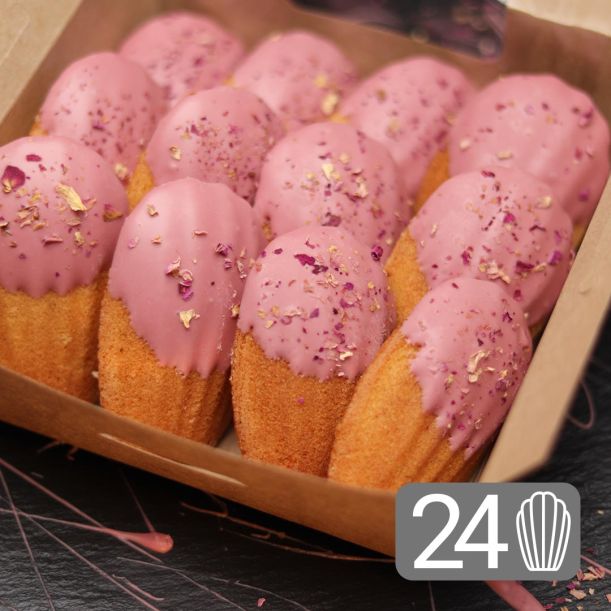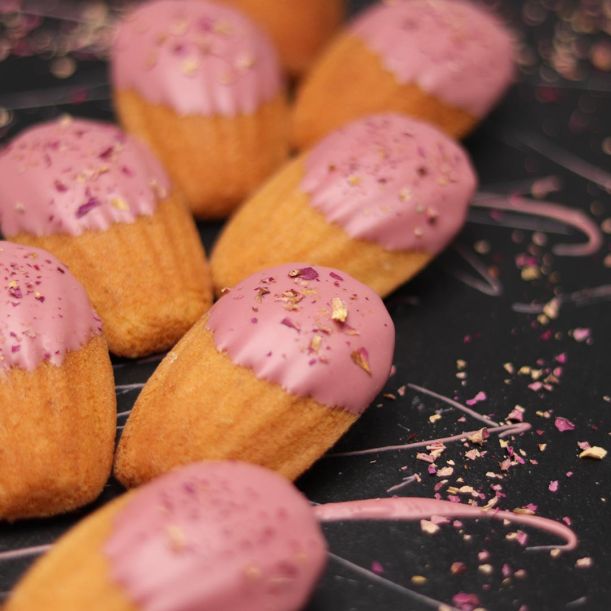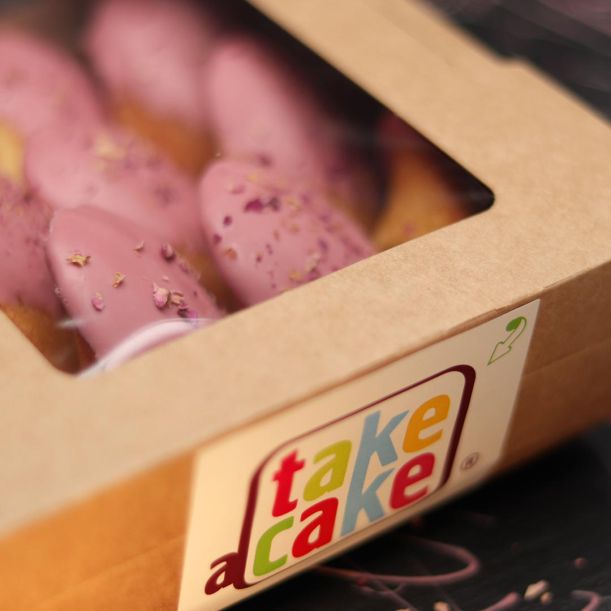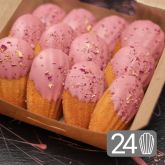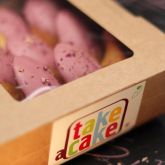 24 Ruby Chocolate and Roses Madeleines
When the legendary French Madeleines meet the magic of the Ruby chocolate, they captivate you in a fantasy of flavours... See more
When the legendary French Madeleines meet the magic of the Ruby chocolate, they captivate you in a fantasy of flavours which will make you fall in love! Enjoy them with a gorgeous Set of 24 Ruby Chocolate and Roses Madeleines from Take a Cake!
The product is not available at the bakeries and can only be ordered with an online pre-order.
Prepare to be swept off your feet by the elegant and airily light Madeleines and the new chocolate discovery with a natural, slightly fruity flavour!
Adored by generations of connoisseurs, the delicious vanilla Madeleines are an indisputable pastry masterpiece. We added the special Ruby ​​chocolate for an extra glamorous delight.
Enjoy some truly magical moments with these little treasures, which will enchant you with their delicate shape of Coquilles Saint Jacques, their melting core and the slightly crispy edges. We dip them in Ruby ​​chocolate and we sprinkle them gently with dried rose petals. Et voilà!
Perfect in every detail, the Madeleines are most delicious when freshly baked, so we prepare them only with a pre-order. Get ready for many sweet sighs with every bite!
Learn more about the history of the Madeleines and the legends of their origin in our blog.
Weight: 0.430 kg +/- 5% for 24 Madeleines.
Ingredients: Eggs, white wheat flour, white crystal sugar, cows' butter, Ruby chocolate, honey, vanilla essence, baking powder, organic dried rose petals.
Allergens are in bold.
Nutrition Facts. Amount per 100 grams: Energy 1801.0 kJ/430.4 kcal. Fats: 23.5 g, of which Saturates 13.7 g. Carbohydrates 48.1 g, of which Sugars 29.2 g. Protein: 6.6 g. Salt: 0.1 g.
How to order?
In the field Receive on* select a day and a time frame window for delivery or pick up from a Take a Cake bakery.

Order before 16:00h for next day delivery/pick up

To this product you can also add a greeting card and certificate of quality
Choose quantity and press Add to basket
More information on How to order
Delivery/click and collect
Take a Cake makes deliveries within Sofia city limits. The delivery fee depends on the area the shipping address is located in. Check out the delivery fees
We carry out deliveries every day, including weekends, from 8:00 to 20:00, within two-hour time frame windows
During checkout you can choose to collect your order from a Take a Cake Bakery. Find the locations of our bakeries on the Bakery locator
See more on Delivery/click and collect
Have a question?