i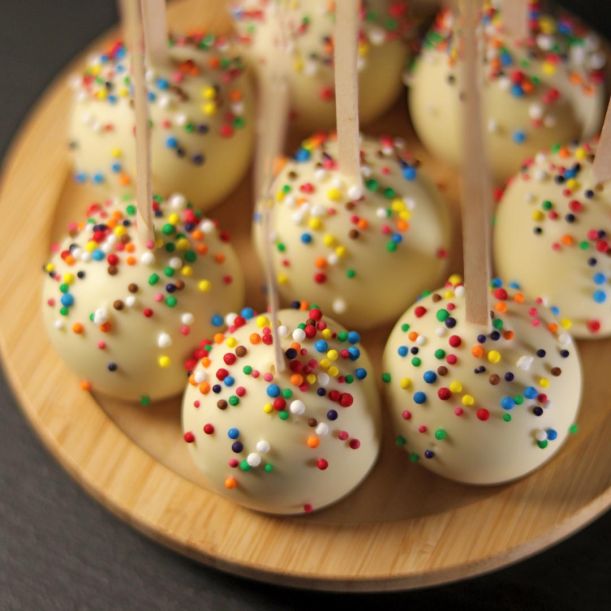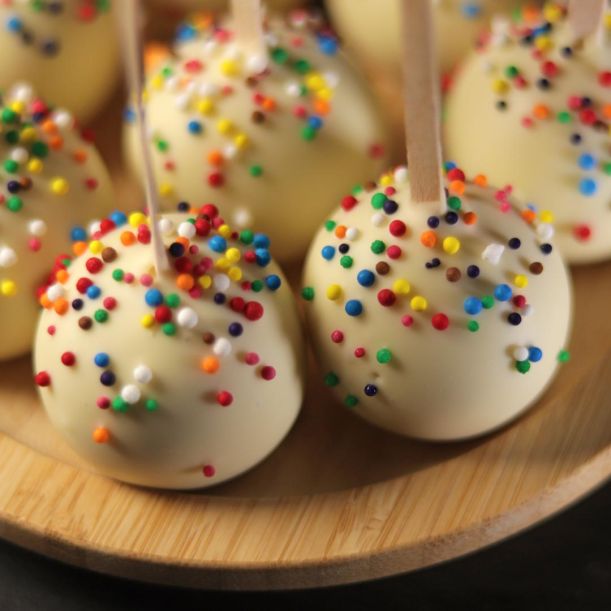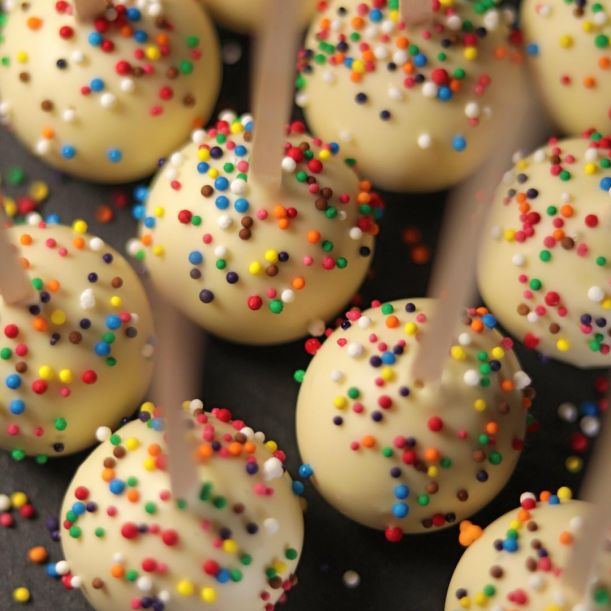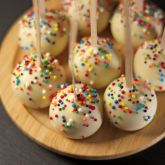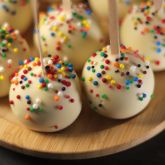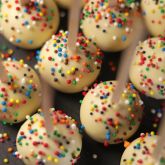 Vanilla and White Chocolate Cake Pops
At the heart of this delicious and fun dessert is crumbled vanilla cake, mixed with fresh cream cheese, and shaped into... See more
At the heart of this delicious and fun dessert is crumbled vanilla cake, mixed with fresh cream cheese, and shaped into a perfect sphere. We dip it in melted high-quality Belgian white chocolate and make a tender chocolate coating. The sugar sprinkle decoration adds colour to his sweet jewel, conveniently stuck on a stick for even more fun moments.
Order cake pops sets for a gift, a treat, a party or for any occasion you can think of!
Weight: 28 g +/- 5% per piece
Ingredients: Cream cheese, white chocolate, cow's butter, white crystal sugar, white wheat flour, eggs, baking powder, cow's milk, sugar sprinkles, vanilla essence, salt.
Allergens are in bold.
Nutrition Facts. Amount per 100 grams: Energy 1694.8 kJ/405.1 kCal, Fats: 25.73 g of which Saturates 15.71 g, Carbohydrates: 37.25 g of which Sugars: 25.92 g, Protein: 6.13 g, Salt: 0. 43 g.
How to order?
Choose quantity of items in a box, a date and time interval for delivery or pick-up, and press Add to basket.
Delivery/click and collect
Take a Cake makes deliveries within Sofia city limits. The delivery fee depends on the area the shipping address is located in. Check out the delivery fees
We carry out deliveries every day, including weekends, from 8:00 to 20:00, within two-hour time frame windows
During checkout you can choose to collect your order from a Take a Cake Bakery. Find the locations of our bakeries on the Bakery locator
See more on Delivery/click and collect
Have a question?