i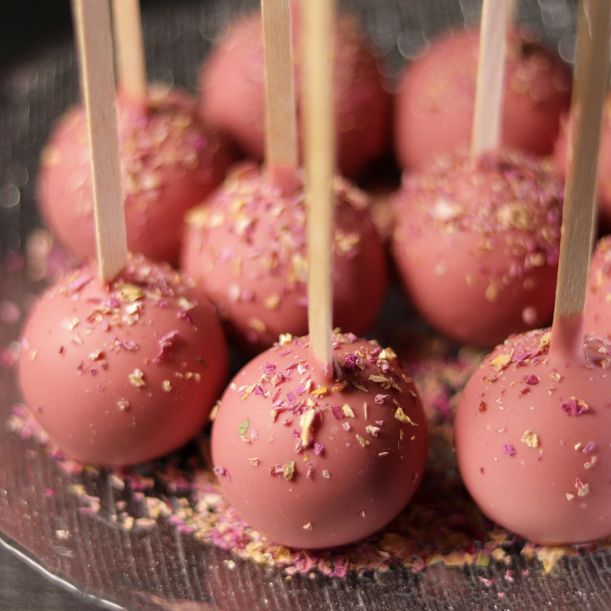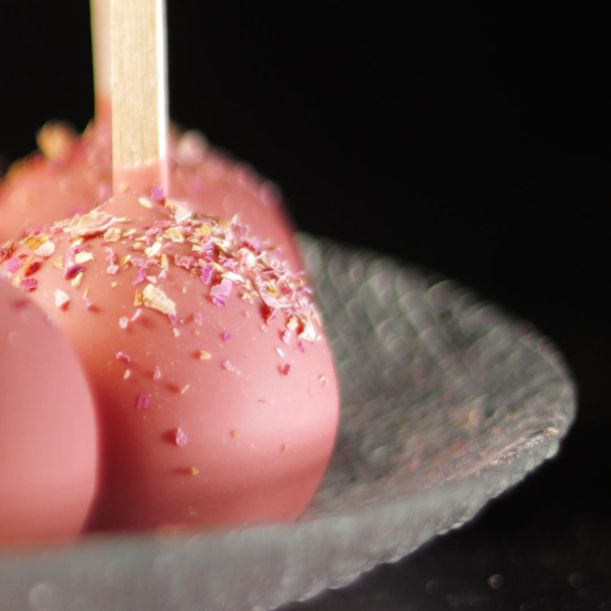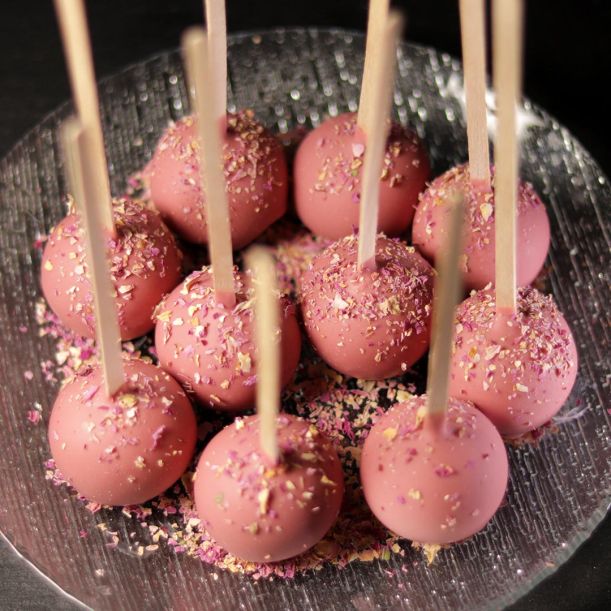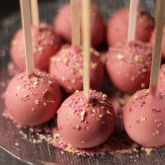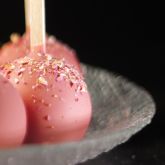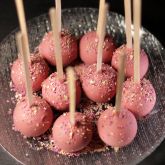 Vanilla and Ruby Chocolate Cake Pops
The fresh mix of cream cheese and crushed vanilla cake make that perfect delicious party snack! And as befits any festive... See more
The fresh mix of cream cheese and crushed vanilla cake make that perfect delicious party snack! And as befits any festive setting, we dress the cake up in glitter with Belgian Ruby chocolate – the biggest innovation in the world of chocolate in recent decades. Created from Ruby cocoa beans, Ruby Chocolate contains no added colourings or fruit flavourings. Try its intense fruity taste and fresh, slightly sour notes. For even more splendour, it is sprinkled with dried organic rose petals.
Order cake pops party sets for a birthday, name day, wedding, or any occasion you can think of!
Weight: 28 g +/- 5% a piece
Ingredients: Cream cheese, Ruby chocolate, cow's butter, white crystal sugar, white wheat flour, eggs, baking powder, cow's milk, dried organic rose petals, vanilla essence, salt.
Allergens are in bold.
Nutrition Facts. Amount per 100 grams: Energy 1702.9 kJ/407.0 kCal, Fats: 26.38 g of which Saturates 16.07 g. Carbohydrates: 36.03 g, of which Sugars: 24.52 g. Protein: 6.38 g, Salt: 0.33 g.
How to order?
Choose quantity of items in a box, a date and time interval for delivery or pick-up, and press Add to basket.
Delivery/click and collect
Take a Cake makes deliveries within Sofia city limits. The delivery fee depends on the area the shipping address is located in. Check out the delivery fees
We carry out deliveries every day, including weekends, from 8:00 to 20:00, within two-hour time frame windows
During checkout you can choose to collect your order from a Take a Cake Bakery. Find the locations of our bakeries on the Bakery locator
See more on Delivery/click and collect
Have a question?