i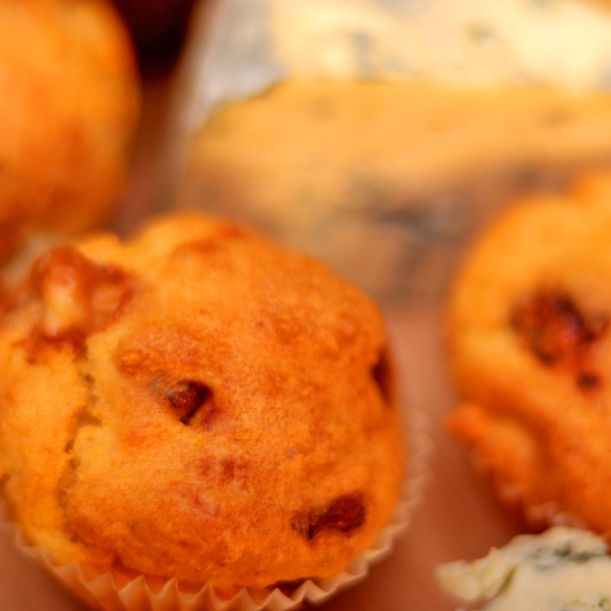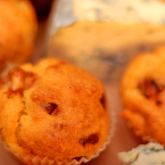 24 Mini Muffins with Blue Cheese and Figs
Discover Take a Cake's quick breads – for a healthy and delicious breakfast, lunch or dinner. Our... See more
Discover Take a Cake's quick breads – for a healthy and delicious breakfast, lunch or dinner. Our muffins bring energy and fun to your day!
Dried figs and blue cheese can be a great company for both breakfast and a glass of wine in the evening. These muffins are the thing for all lovers of offbeat combinations.
Now you can enjoy them in a mini size – a perfect catering option for company events and personal occasions.
Unlike cupcakes, muffins fall into the category of the so-called quick breads – the ingredients are mixed just like in bread making, but the dough isn't kneaded and no yeast is added. They are baked right after mixing.
Our quick breads combine healthy ingredients and the mini size turns them into a fresh and tasty party idea.
Conveniently small and at the same time big enough to be suitable for all kinds of events and occasions. This is the mini size of our muffins. They are ordered in sets with 24 pieces of one flavour.
Weight: 530g +/- 5% for 24 pieces.
Ingredients: White wheat flour, cow's yoghurt, eggs, cow's butter, dried figs, blue cheese, olive oil, baking powder, salt.
Allergens are in bold.
Nutrition Facts. Amount per 100 grams: Energy 1442.7 kJ/344.8 kcal. Fats: 18.4 g, of which Saturates 9.3 g. Carbohydrates: 36.0 g, of which Sugars 6.6 g. Protein: 8.9 g. Salt: 0.6 g
You can find Mini Muffins with Blue Cheese and Figs in our promo Mediterranean Mini Muffin Collection with 6% discount andfree delivery in Sofia!
How to order?
In the field Receive on* select a day and a time frame window for delivery or pick up from a Take a Cake bakery. Order before 16:00h for next day delivery/pick up
Choose packaging*
To this product you can also add a greeting card, a cupcake stand, and certificate of quality
Choose quantity and press Add to basket
More information on 'How to order'
Delivery/click and collect
Take a Cake makes deliveries within Sofia city limits. The delivery fee depends on the area the shipping address is located in. Check out the delivery fees
We carry out deliveries every day, including weekends, from 8:00 to 20:00, within two-hour time frame windows
During checkout you can choose to collect your order from a Take a Cake Bakery. Find the locations of our bakeries on the Bakery locator
See more on Delivery/click and collect
Have a question?