i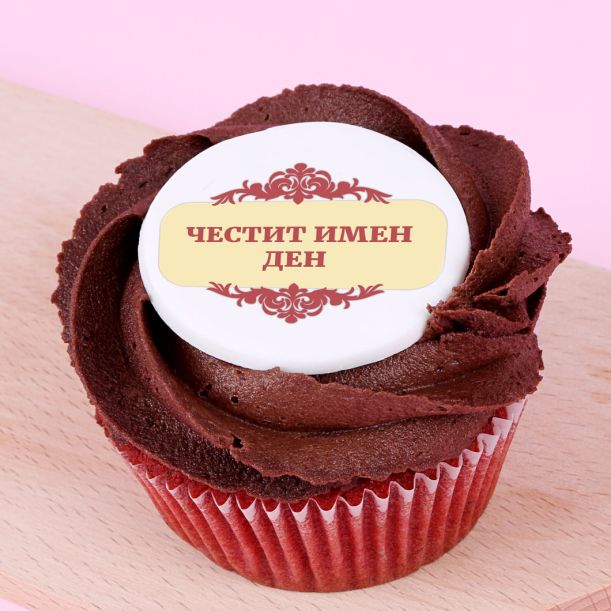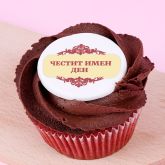 Name Day Cupcake
When it's time for your friend's name day and you want to congratulate her, this is the cupcake... See more
When it's time for your friend's name day and you want to congratulate her, this is the cupcake you need. Our Red Velvet cupcake is paired with cocoa frosting and a fondant decoration with edible paper that says 'Happy name day'. You can also add it to a box of six cupcakes, combining it with your favourite flavours, or you can just come to one of our bakeries and get it individually packed in a box.
Weight: 95 g +/- 5%
Ingredients: Powdered sugar, cream cheese, cow's butter, white wheat flour, white crystal sugar, cow's milk, eggs, lemon juice, natural cocoa powder, cocoa, apple vinegar, vanilla essence, baking soda, salt, red food colouring.
Decoration: Fondant (sugar paste), pastry jelly, wafer paper, food colourings.
Allergens are in bold.
Nutrition Facts. Amount per 100 grams: Energy 1840.9 kJ/440.0 kcal. Fats: 21.2 g, of which Saturates 13.1 g. Carbohydrates: 58.1 g, of which Sugars 45.7 g. Protein: 4.2 g. Salt: 0.5 g.
How to order?
To order this cupcake, press Add to your selection. In the next steps you will be able to:
Choose packaging
Select a day and a time frame window for delivery or pick up from a Take a Cake bakery. Order before 16:00h for same day delivery/pick up
Add a greeting card, a cupcake stand, and certificate of quality
More information on How to order
Delivery/click and collect
Take a Cake makes deliveries within Sofia city limits. The delivery fee depends on the area the shipping address is located in. Check out the delivery fees
We carry out deliveries every day, including weekends, from 8:00 to 20:00, within two-hour time frame windows
During checkout you can choose to collect your order from a Take a Cake Bakery. Find the locations of our bakeries on the Bakery locator
See more on Delivery/click and collect
Have a question?