i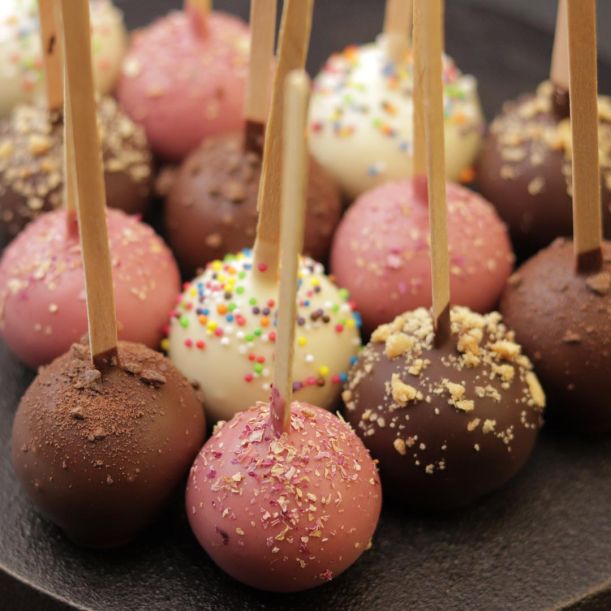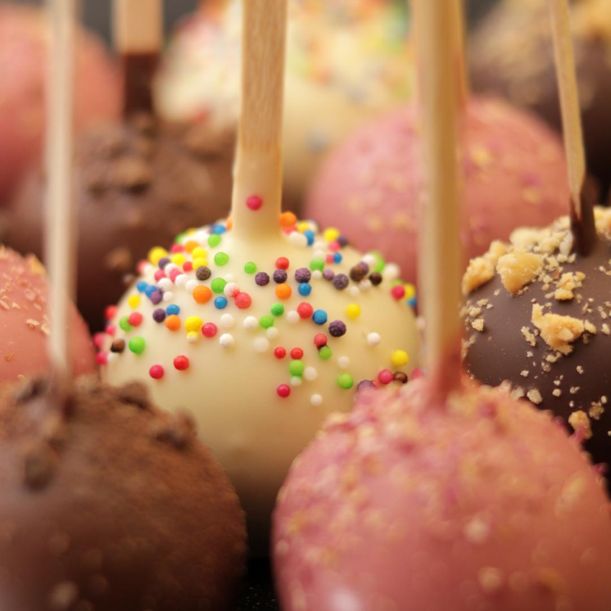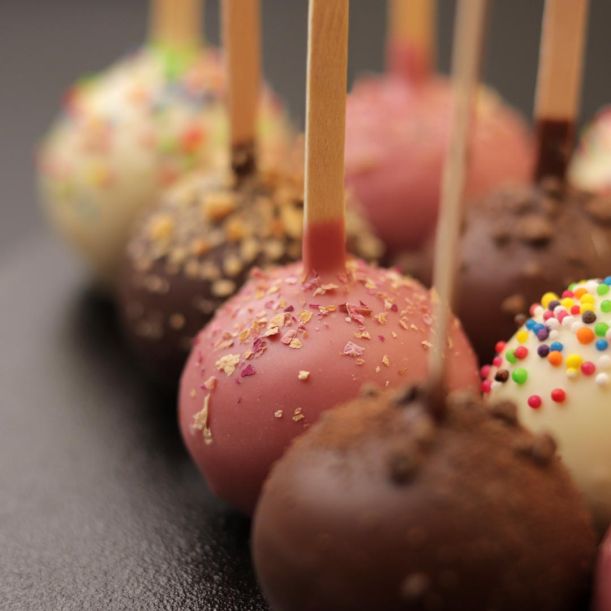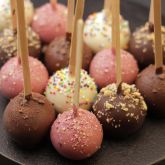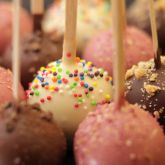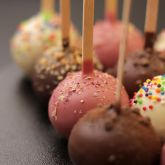 Megamix Cake Pops Collection
Introducing our most multi-flavoured Cake Pops Collection yet. We included four different flavours in it, which makes... See more
Introducing our most multi-flavoured Cake Pops Collection yet. We included four different flavours in it, which makes it very suitable for a treat – so you can be sure that each of your guests will get a favourite pastry. Read more about these cute jewelleries and order in convenient sets for a birthday, name day, wedding, or any occasion you can think of!
Vanilla and White Chocolate Cake Pops
At the heart of this delicious and fun dessert is crumbled vanilla cake, mixed with fresh cream cheese, and shaped into a perfect sphere. We dip it in melted high-quality Belgian white chocolate and make a tender chocolate coating. The sugar sprinkle decoration adds colour to his sweet jewel, conveniently stuck on a stick for even more fun moments.
Vanilla and Ruby Chocolate Cake Pops
The fresh mix of cream cheese and crushed vanilla cake make that perfect delicious party snack! And as befits any festive setting, we dress the cake up in glitter with Belgian Ruby chocolate – the biggest innovation in the world of chocolate in recent decades. Created from Ruby cocoa beans, Ruby Chocolate contains no added colourings or fruit flavourings. Try its intense fruity taste and fresh, slightly sour notes. For even more splendour, it is sprinkled with dried organic rose petals.
Cocoa and Milk Chocolate Cake Pops
Introducing our new milk chocolate and cocoa perfection! The delicious shell of Belgian milk chocolate is sprinkled with pieces of Belgian dark chocolate. And what is it full of? Its interior hides a delicate mixture of crumbled cocoa cake and fresh cream cheese. To make it not only super tasty, but also convenient, each sweet jewel is on a stick. Unique cake that you can eat with one hand, without flatware, and without getting dirty.
Cocoa and Dark Chocolate Cake Pops
We present you one of our most chocolatey pastries on a stick – as tasty as a praline, as convenient as a lollipop. Discover the core of crumbled cocoa cake and fresh cream cheese, enrobed in high-quality natural Belgian chocolate. The chopped hazelnuts complete the chocolate harmony. Enjoy this delicious treat without even touching it with your hand!
You can find the weight, ingredients, and nutrition facts of the different flavours on their respective product pages on our website.
How to order?
Choose quantity of items in a box, a date and time interval for delivery or pick-up, and press Add to basket.
Delivery/click and collect
Take a Cake makes deliveries within Sofia city limits. The delivery fee depends on the area the shipping address is located in. Check out the delivery fees
We carry out deliveries every day, including weekends, from 8:00 to 20:00, within two-hour time frame windows
During checkout you can choose to collect your order from a Take a Cake Bakery. Find the locations of our bakeries on the Bakery locator
See more on Delivery/click and collect
Have a question?