i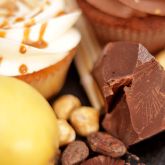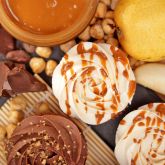 Pear, Caramel and Chocolate Box
If there is a box that overflows with pleasure, this is it! Take a Cake's Pear, Caramel and Chocolate Box combines... See more
If there is a box that overflows with pleasure, this is it! Take a Cake's Pear, Caramel and Chocolate Box combines splendid flavours to touch all the senses. The juicy Pear Cupcake and the tempting Double Cupcake are not simply a great match, but a match that you'll undoubtedly remember.
Order with same-day delivery in Sofia or get it from our Take a Cake bakeries.
Weight: 540 gr +/- 5%
The set includes: 3 Pear Cupcakes and 3 Double Cupcakes. You can find the ingredients and nutrition facts on the respective detailed product pages on our website.
Pear Cupcake: the secret of this flavour is in the pieces of fresh pear, that we mix in a light batter and bake it immediately. The sweet and juicy combination is completed with a tender cream cheese frosting. And there's more! We add an irresistible finish – fine lines of milk caramel Dulce de leche. The result is true magic.
Double Cupcake: our first cupcake that combines two irresistible fillings. The velvety chocolate ganache and the incredible milk caramel Dulce de Leche intertwine in a tender embrace within the fluffy cocoa base. All that splendor is completed with a light cocoa cream cheese frosting, sprinkled with ground hazelnuts.
How to order?
In the field Receive on* select a day and a time frame window for delivery or pick up from a Take a Cake bakery. Order before 16:00h for same day delivery/pick up
Choose packaging*
To this product you can also add a greeting card, a cupcake stand, and certificate of quality
Choose quantity and press Add to basket
More information on 'How to order'
Delivery/click and collect
Take a Cake makes deliveries within Sofia city limits. The delivery fee depends on the area the shipping address is located in. Check out the delivery fees
We carry out deliveries every day, including weekends, from 8:00 to 20:00, within two-hour time frame windows
During checkout you can choose to collect your order from a Take a Cake Bakery. Find the locations of our bakeries on the Bakery locator
See more on Delivery/click and collect
Have a question?