i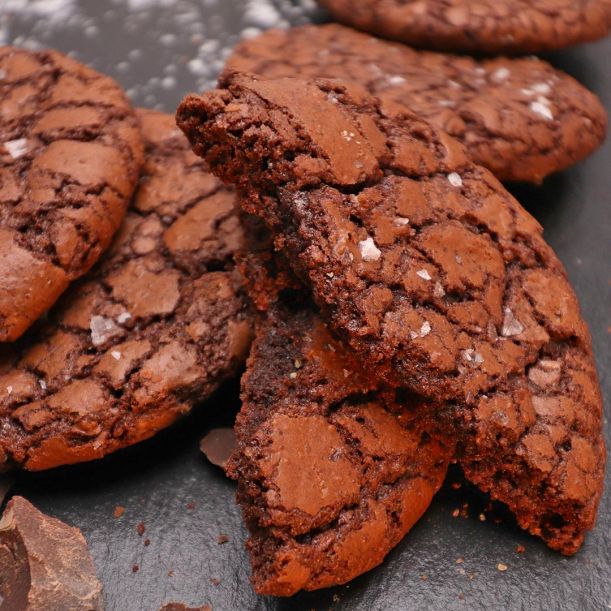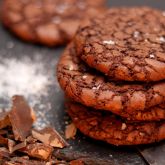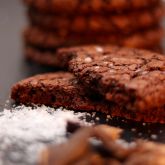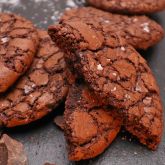 Brownie Cookies - 500 g
Delightfully chocolaty. Just like the classic brownie, they enchant you with their intense flavour and every dreamy bite... See more
Delightfully chocolaty. Just like the classic brownie, they enchant you with their intense flavour and every dreamy bite is full of sweetness. If you are in the dedicated chocoholics club, Take a Cake's brownie cookies are the perfect treat for any gathering with friends. Or delicious company for a long walk.
The slightly cracked crust envelops a thick and chewy chocolate texture and the balance of the taste is brought to perfection with fine flakes of artisanal salt Fleur de Sel. It's called Flower of the Sea due to its unique qualities which preserve the scent of the sea. We sprinkle it gently and we give you pure magic!
Our Brownie Cookies come in paper bag packages that have special oil resistant layers on the inside. Their secure closing allows multiple usage while keeping the cookies fresh and prevents them from drying out. This also makes them very suitable on-the-go, so your favourite cookies can be with you anytime.
Handmade cookies. No artificial sweeteners, colours, preservatives, and additives.
Weight: 500 g +/- 5%

Ingredients: Natural chocolate, white crystal sugar, white wheat flour, cows' butter, eggs, brown crystal sugar, cocoa, baking powder, artisanal Black Sea salt Fleur de Sel, salt.

Allergens are in bold.
Nutrition Facts. Amount per 100 grams: Energy 2089.9 kJ/499.5 kcal. Fats: 27.2 g, of which Saturates 16.4 g. Carbohydrates 56.1 g, of which Sugars 41.1 g. Protein: 7.6 g. Salt: 0.3 g
How to order?
In the field Receive on* select a day and a time frame window for delivery or pick up from a Take a Cake bakery. Order before 16:00h for same day delivery/pick up
To this product you can also add a greeting card and certificate of quality
Choose quantity and press Add to basket
More information on How to order
Delivery/click and collect
Take a Cake makes deliveries within Sofia city limits. The delivery fee depends on the area the shipping address is located in. Check out the delivery fees
We carry out deliveries every day, including weekends, from 8:00 to 20:00, within two-hour time frame windows
During checkout you can choose to collect your order from a Take a Cake Bakery. Find the locations of our bakeries on the Bakery locator
See more on Delivery/click and collect
Have a question?