i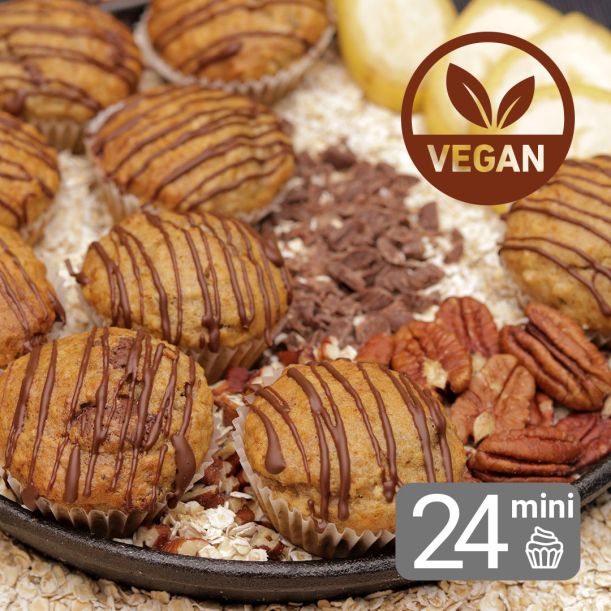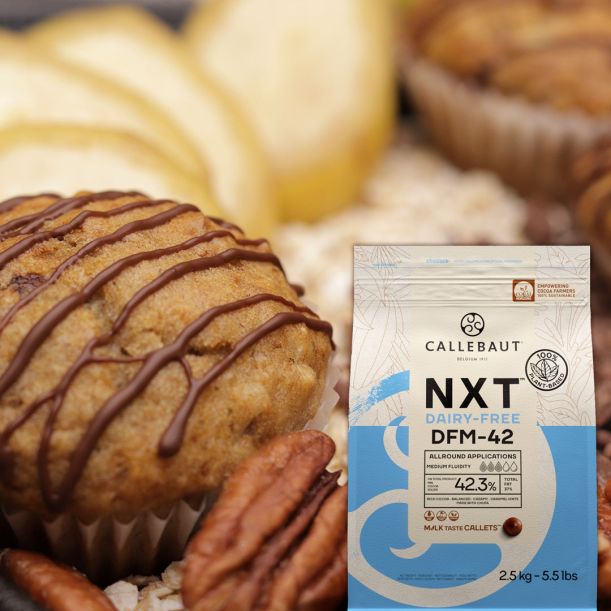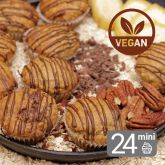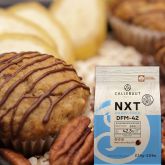 24 Mini Vegan Banana Muffins with Callebaut NXT
Introducing our new Banana Vegan Muffin, created with plant-based ingredients only, now in mini size that's perfect... See more
Introducing our new Banana Vegan Muffin, created with plant-based ingredients only, now in mini size that's perfect for a party. Inspired by the classic Banana Bread, our recipe will surprise you with the world's first entirely plant-based chocolate, but with the adored by chocolate lovers taste and consistency of milk chocolate. Yes, that's right – a high quality alternative to milk chocolate – this is Callebaut NXT M_lk! Made with the plant Chufa, the superfood which gives NXT the creaminess of milk chocolate. We add it to the freshly mixed dough of two types of flour, oats, banana, and pecan, and bake it immediately. We decorate the tempting muffin with streaks of melted Callebaut NXT M_lk vegan chocolate.
Try it not only because it meets your preferences for completely plant-based foods, but above all because of its unique taste!
Weight: 600 g +/- 5% for 24 mini muffins.
Ingredients: Bananas, Callebaut NXT M_lk vegan chocolate, whole wheat flour, powdered sugar, white wheat flour, fine oats, almond milk, canola oil, pecans, vinegar, baking soda, baking powder, vanilla essence, salt.
Allergens are in bold.
Nutrition Facts. Amount per 100 grams: Energy 1040,3 kJ/248,6 kCal. Fats: 12.0 g, of which Saturates 1.2 g. Carbohydrates: 30.2 g, of which Sugars 14.9 g. Protein: 4.8 g. Salt: 0.2 g.
How to order?
In the field Receive on* select a day and a time frame window for delivery or pick up from a Take a Cake bakery. Order before 14:00h for next day delivery/pick up
Choose packaging*
To this product you can also add a greeting card, a cupcake stand, and certificate of quality
Choose quantity and press Add to basket
More information on 'How to order'
Delivery/click and collect
Take a Cake makes deliveries within Sofia city limits. The delivery fee depends on the area the shipping address is located in. Check out the delivery fees
We carry out deliveries every day, including weekends, from 8:00 to 20:00, within two-hour time frame windows
During checkout you can choose to collect your order from a Take a Cake Bakery. Find the locations of our bakeries on the Bakery locator
See more on Delivery/click and collect
Have a question?