The story of the Red Velvet Cupcake begins roughly around 1873. Dr. Alvin Wood Chase, a family doctor, bee-keeper and a blacksmith, mentions the famous 'Velvet cakes' in his book. His words are: "Recently there's this tendency for things to be called with tender names such as a Velvet Cake, a Velvet Cream..", describing how they're made.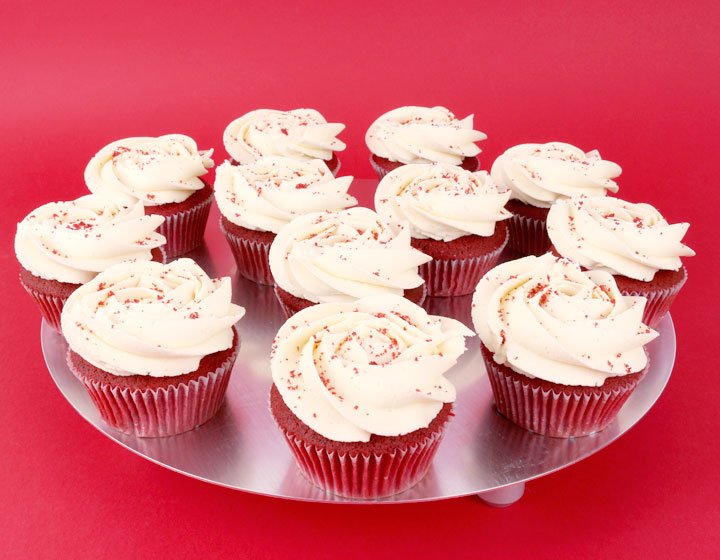 It's common for cakes with a fine texture to be named like that. The red colour was a result of a chemical reaction between one of the cocoa's natural pigments and the vinegar, used in the recipe. During WWII quality cocoa was scarce and hard to get a hold of, so an alternative way of colouring was needed. Sometimes people even used beetroot.
That was it until John A. Adams came into the scene with his great idea of saving the dying family factory for food flavours and colourings. He was the one to put up huge displays in the town shops showing the reddest and most scrumptious Red Velvet Cupcake. The colouring was sold together with a recipe, that included other products made by the factory.
And so it is today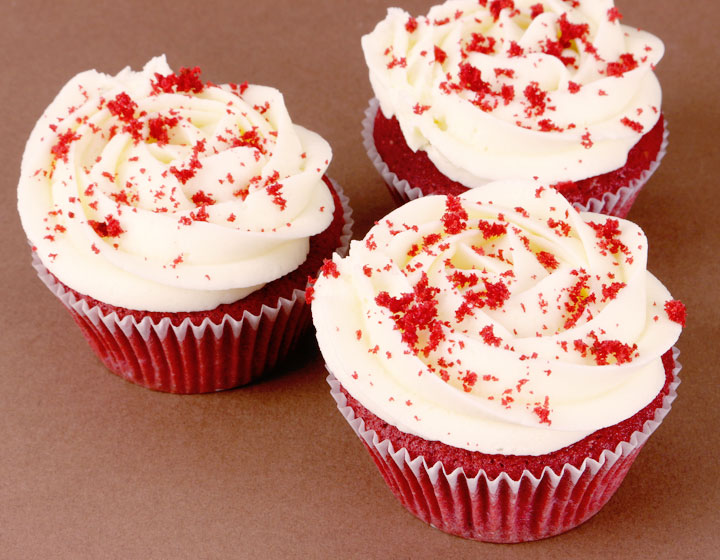 So the sensational Red Velvet Cupcake was born.
We were torn between many versions of the recipe, altering and changing it until we came to the one that gives us the most velvety and tender cupcake, perfectly combined with the fluffy cheese cream frosting. Our purpose was to make a Red Velvet cupcake according to the original recipe. The secret lies in the special cocoa that we use.

Or, to be more precise, in method it's treated. Dark cocoa that has no added soy flour and sweeteners, that you can find in quality shops, is chemically treated in a way that guarantees the neutralization of cocoa's natural acidity. Which assures an intense colour and tender flavour.
In our recipe we use natural cocoa powder. Its beans are roasted and ground to powder without any extra treatment. It's lighter in colour and stronger in taste, preserving all the characteristics of a cocoa bean. The other crucial component here is the so-called butter milk, which gives the cupcake its typical fluffy but moist structure.
The Red Velvet cupcake is one of our most loved flavours.
If you still haven't tried it, it's time to do it. You can choose between a single piece of the flavour to fill your box of six cupcakes, a whole dozen, party-sized cupcakes, or even a Red Velvet wedding cake.